Secure Nostalgia with a Real Christmas Tree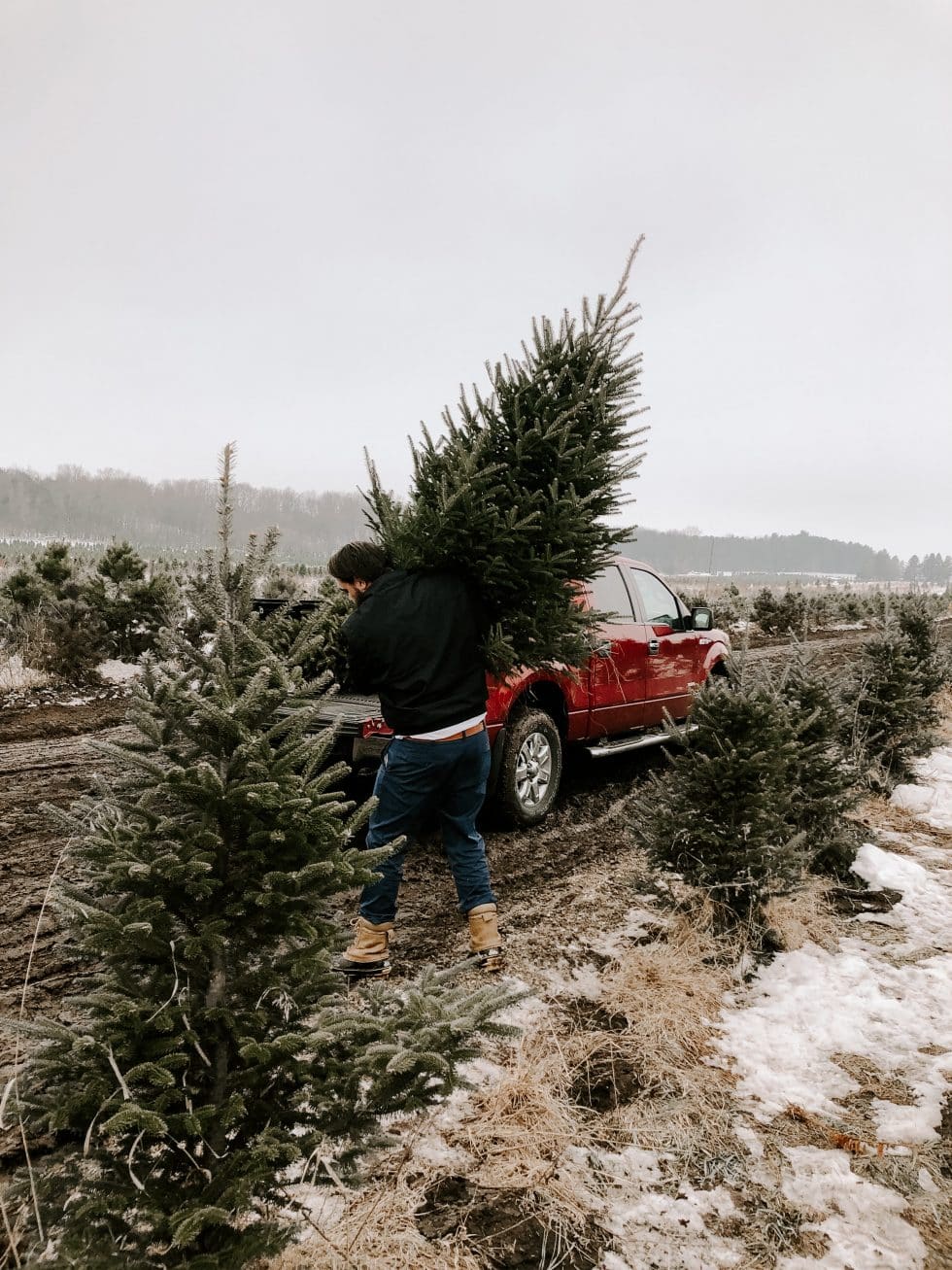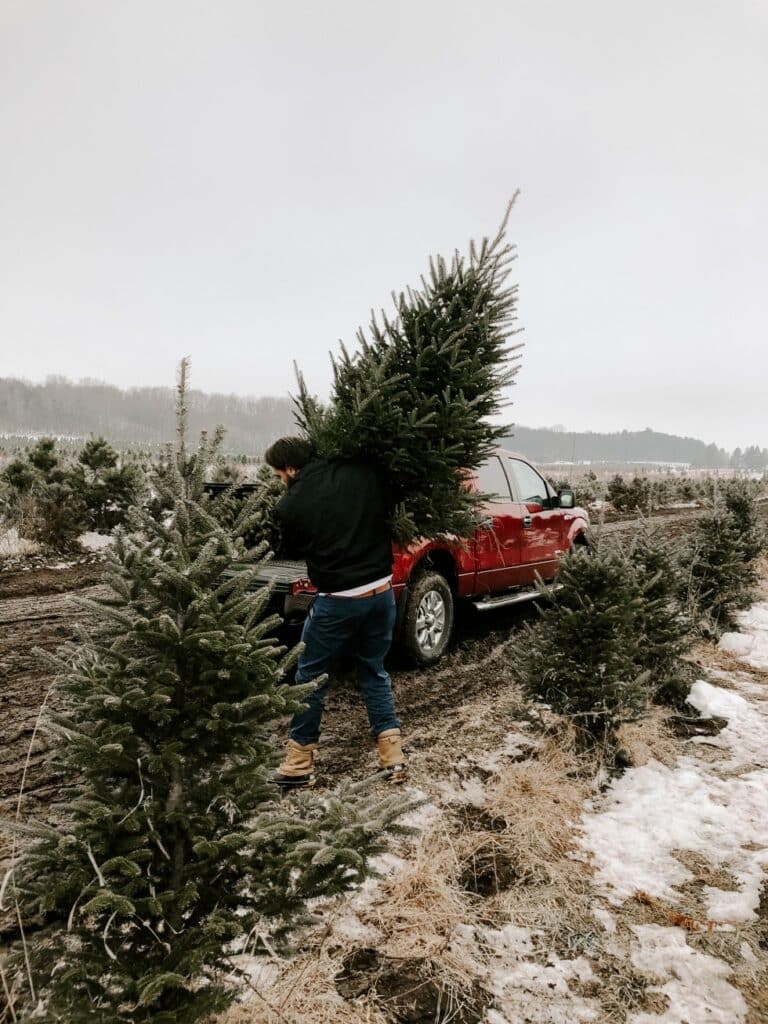 I was eight years old when Dad decided we were too financially strapped for a Christmas tree. It had been a hard year. But Christmas isn't right without a glittering tree, full of ornaments, lights, ribbon, and the bright, glowing Christmas star nestled on top. Mom cried. No Christmas tree?
Dad started pulling on his boots. "Don't worry! We'll just get one ourselves, from the woods!". We lived on a farm, and there was plenty of acreage to choose from. Strapping on our boots, pulling up our snow pants, layering the socks and mittens, my brother and I followed Dad out the door. We were getting a Christmas tree for Mom.
An hour later of slogging through snow up to our knees, and we still hadn't found a tree shorter than … well, the top of the forest. We were desperate. "How about this one, Dad?" Dad would swing his axe across his shoulder, peer up, up, up, and mutter "nope". More trudging commenced. Would we find a tree?
The Perfect Charlie-Brown Tree
Finally, there was a little clearing, with a spruce tree that we could see the top of. It looked beautiful out there in the forest. Surrounded by its parents, lightly covered with snow. It was tall, but not too tall. Dad said it. "This is the one".  We all cheered. Dad chopped it down, and then he took the bottom end and we took the top, and we started the long walk home. We trudged back through the path we had made earlier, hauling our very heavy tree.
I'd love to tell you that the tree was the most beautiful one we've ever had, but that would be a mistake. In fact, once we shook the snow off and got it inside to it's water-filled tree stand, we thought we might have made an error. Was this the same tree?
Charlie-Brown-esque, its branches drooped near the ground if a Christmas bulb was hung on it. There were large patches of empty space where no branches grew. Our glittery Christmas star was too heavy for the top. The tree toppled over multiple times.
Mom was undaunted in her gratitude to Dad for getting this tree. She swirled ribbons around the gaping holes, and tied a bow on top. Dad carefully and gently wound the lights around the trunk. My brother and I rooted through the ornament box to find the lightest ornaments that Mom had crocheted the year before. We piled our gifts around the bottom. When we had finished, we had a Christmas tree.
More than that, we had the spirit of Christmas. An experience of bonding together, traipsing through the woods to pick out a tree. We hold the memories of our laughter when the tree wouldn't hold an ornament. My brother and I cherish the love we saw in our parents that year. Sacrificial love, joy in the effort, gratitude for the small things. These are the real things that Christmas is made of, and these are the gifts that that real tree gave to our family.
Want to make memories with your loved ones this year? Visit HemingwayHill, your local Dallas, TX Christmas tree farm, to select your perfect Christmas tree. Bring the warmth and goodwill of a real tree home this year for Christmas.
These days, it is getting harder to find a Christmas tree, especially from a family run Christmas tree farm. So, where are all the Christmas trees? Let's take a look.
2008, 2008, You Really Weren't All That Great
The Christmas tree shortage began in 2008. While that year there were plenty of Christmas trees around, people didn't have the money to buy them, creating a saturated market. During the Great Recession, farmers were left with a glut of trees and lost their incentive to purchase and plant seedlings. Since Christmas trees take an average of 8-12 years to reach full height, a year off of planting means a shortage … in 8-12 years.
In addition to the shortage of trees being planted, many Christmas tree farms were just calling it quits on the business altogether. Christmas trees require watering, weed control, and shaping. During its first year, a seedling needs watering every week. The physical demands required to grow the perfect Christmas tree can be difficult for an aging farming population. With kids not wanting to take over the family business, it was easier to just stop planting trees.
A Shortfall Years in the Growing … or Not Growing
80 year old farmers know this business, and they predict that the current shortage of trees will take about 10 years to undo. Because the amount of Christmas trees is a fixed amount each year, based on how many were planted eight years ago, the supply is always fixed. While the demand may swing up or slow down, the amount of trees available determines the price.
The National Christmas Tree Association wrote that the 1990's were a time of oversupply of Christmas trees. Farmers had fields of ready trees, and demand was down, pushing the price of Christmas trees lower. This cut into growers profit, which de-incentivised buying more seedlings and planting trees for the future.
Now that trees are scarce, sales are soaring, which gives farmers more cash flow for planting seedlings. In 8-10 years, we may see an influx of Christmas trees at the right size for cutting.
The Pandemic of 2020 Spiked Demand for Christmas Trees
Join this shortage of trees with an increase in demand, and it is easy to see why Christmas trees cost so much these days. In fact, prices for Christmas trees have doubled in a decade. Check out this chart:
Sources: CBS News, Fortune, Orlando Sentinel, Axios
During last year's pandemic, most people stayed at home. They started looking for an escape from our world of fear, loss, and frustration. Celebrating Christmas with a real tree was one solution. People looking for cheer and celebration turned to Christmas, and wanted to buy trees. This article from Business Insider shares the perspective that many people purchased a real Christmas tree from a Christmas tree farm to spark joy in the midst of the pandemic.
But, there just weren't enough trees to go around last year. Many vendors were operating at a low capacity due to the shortage of available trees. Christmas tree growers have to be conscious of leaving trees for next year, and so were sparingly cutting through their ranks. Some were closed altogether because of COVID-19.
The Texas Shortage
Specifically in Texas, the Valentine's Freeze of 2021 brought devastating results for Christmas trees. In the Dallas area, freezing temperatures have caused trees to become damaged. Timothee Salin writes in Nursery Management Magazine that this will probably mean a shortage of trees in the 2021 season. The freeze wiped out Christmas trees that were already few in number.
There has also been an increase in population in Texas, according to the U.S. Census. An increase in population, coming off of another year of pandemic experiences, and shortage of trees means there will likely be high demand for Christmas trees in 2021.
Make sure that your family gets a memory-making Christmas experience this year. Make plans today by pre-ordering a live, pre-cut Christmas Tree from HemingwayHill. Our Dallas, TX Christmas Tree farm has a limited supply of 6', 7', and 9′ trees.
Don't be left behind in the rush to get a Christmas Tree this year. Plan today to make memories with your family and get a real Christmas tree from HemingwayHill. Located just outside of Dallas, our pre-cut Christmas trees will be ready Thanksgiving weekend. A new tradition, Christmas cheer, and family fun can be a part of your Christmas holiday when you choose a tree from HemingwayHill. Join us this year to spark a memory with your family.